The #1 struggle for the average person, is…
eating nourishing foods consistently. At the heart of this struggle is time – more precisely – not enough time, to plan ahead and consistently have the right foods on hand.
This is exactly why I've been searching for a product that was:
CLEAN

: low sugar, non GMO, gluten-free, organic, ideally vegan 

PORTABLE:

empowering busy people like yourself to still be properly nourished when on the go

NUTRIENT-DENSE:

contains whole foods, and good amounts of healthy fats, fibre, moderate protein, and low in carbs.
Enter EVOLV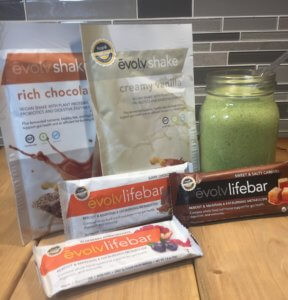 Their shakes and bars make it easy to get the daily nutrients you need – and none of what you don't need.
As well, EVOLV offers complete hormonal and digestive support using well-studied, plant-based molecules. These are two weakened areas in those of us over 40, so it's a perfect fit! EVOLV brings the best of Mother Nature to us!
And, EVOLV is a social business on a mission to eradicate global childhood malnutrition. For every serving you buy, an equal number of servings of whole food-based nutritional support goes to children in need. Improving your own health and that of the world's most vulnerable children…now THAT'S something to feel good about!
Wanna know more? Click here, and I'll be happy to chat with you.